Friday, 8 May 2015 12:37pm
Last week (4 May 2015), the Department of Natural Resources Coastal Management office received notice that Shell Pipeline will not proceed with the Westward Ho Pipeline from St James Parish to Nederland, Texas, through the Atchafalaya Basin.  
The project would have affected 200 miles and destroyed over 700 acres of land, including at least 200 acres of invaluable Cypress Swamp in the Atchafalaya, and would have aggravated impaired flows to 81 sloughs, coulees, and bayous in Louisiana's River of Trees. 23 Louisiana Rivers would have been crossed and impacted, threaded with a metal burden and increased threat of routine crude spills and disasters that plague our corner of the planet.
---
---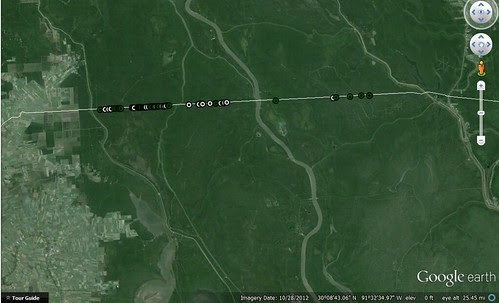 Thanks to the leadership of Atchafalaya Basinkeeper, with critical support from Tulane Environmental Law Clinic and Gulf Restoration Network, including months of technical and legal negotiations, Shell was pressured to modify their project to reduce Pipeline impacts--in particular to the 81 streams in the Basin.  
Although many local Shell staff and contractors were willing and ready to tread lightly on the Basin and minimize impacts, Shell Corporate did not want to improve their practices, lest the good practices become policy and affect future projects.
ABK, TELC, and GRN were forced to oppose such an absurd position
, and petitioned against the project.  
Thanks to strong opposition from 2,400 petitioners, GRN members, and hard work from staff and volunteers, over 200 acres of Cypress Forest have been preserved. That's a minimum of $12,000 per acre year, or a minimum value of $2.4 Million a year in ecosystem services (including the other 500 acres brings it to a Min $4.5 Million/ year). 
How's that for capital discipline?
The Basin is an International Treasure, and a unique place on the planet, and the struggle continues to preserve its fertility and beauty. Indeed, this particular Pipeline Right-of-Way continues to be out of compliance with the Clean Water Act, causing restricted flows of water, limiting fishing, and making it hard for the Basin to deliver essential crawfish to Louisianans and all Americans. Because of out-of-compliance dredging and fill projects, the Basin is silting in, and threatens to turn into a tallow forest if management does not improve. Dean Wilson, Basinkeeper, explains the reality of environmental protection in the basin-- "Permits should never be issued to repeat environmental criminals when the Corps will not and cannot enforce the terms of the permits, partly because the enforcement department does not even own a boat." 
Atchafalaya Basinkeeper
continues to fight for this globally unique wetland forest, the last large remnant of the once impenetrable Mississippi Delta Swamp that cradled an entire American civilization.  
GRN and allies continue to fight the blistering boom in bad heavy crude pipeline projects in our Swamp basins, including two large projects in the Maurepas and Barataria Basins closer to New Orleans. The latest proliferation of these risky ventures are supposedly needed to process the excessive Canadian Tar Sands leaking into the Gulf Coast from our neighbor to the north. Our eastern cypress forests are an essential part of the Mississippi Flyway, but most urgently, an essential line of defense against coastal flooding in the Houma-BatonRouge-New Orleans region, the most populated areas of Louisiana. 
We question the need for this willful, surplus, leaky infrastructure in our wetland home.
Scott Eustis, MS is GRN's coastal wetland specialist
Genesis Pipeline Through LaFourche --LA DNR 
P20141493
 200 yr Cypress in Woodlands Trail, Orleans Parish
Tags: