Past Victories and Accomplishments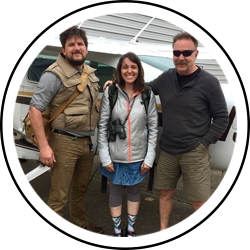 ‍
2015
July 2nd: The Department of Justice, Gulf states and BP announced a settlement in principle for damages from the BP disaster, including Clean Water Act fines and Natural Resource Damage Assessment penalties, of $18.7 billion. Although the sum could have been larger, this settlement ensures that there is funding for the urgent restoration needs of the Gulf in the near-term, rather than tie any potential fines up in legal appeals for years.
June 24th: After hearing from hundreds of GRN supporters, Florida parish residents and people from across Louisiana, the Vicksburg District of the Army Corps of Engineers denied a permit for a plan to dam the Boga Lusa Creek in Washington Parish – preventing a 1,000 acres of wetlands, the creek itself and historic cemeteries from being destroyed.
June 20th: Over 600 people joined GRN, the Green Project, Global Green and Concordia at the Peristyle in New Orleans' City Park for our 2nd annual Summer Solstice party to celebrate decades of water protection work and GRN's 21st birthday!
May 27th: After receiving hundreds of thousands of comments from citizens, including many GRN supporters, the Environmental Protection Agency approved a new Clean Water Rule that protects streams and wetlands critical to public health, communities and the economy.
May 4th: Following a challenge from GRN and our partners, including Atchafalaya Basinkeeper and the Tulane Environmental Law Clinic, Shell backed off plans to build a new pipeline – dubbed "Westward Ho" – from St. James Parish, LA to Nederland, TX. This project would have destroyed over 700 acres of land, including at least 200 acres of invaluable cypress swamp in the Atchafalaya Basin.
May: Thanks to the efforts of GRN, the Center for Biological Diversity, the Mississippi Chapter of the Sierra Club, the Land Trust for the Mississippi Coastal Plains and developer Columbus Communities, over 170 acres of habitat crucial to the survival of the critically endangered dusky gopher frog were protected under a land purchase.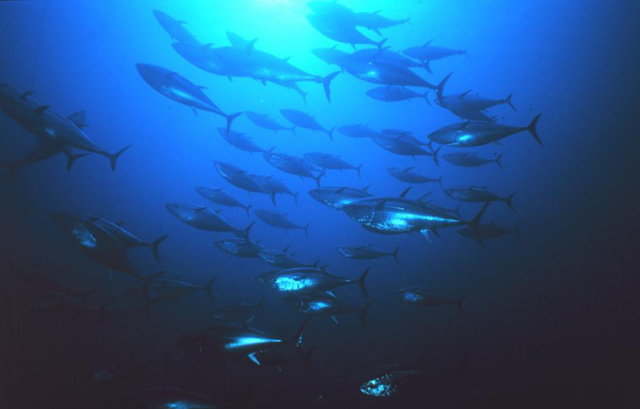 April 20th: The Natural Resources Damage Assessment (NRDA) Trustees released their proposed projects for Phase IV of BP disaster Early Restoration spending, a majority of which were focused on restoring the Gulf's ecosystem. We were especially pleased to see a proposal to help Gulf longline fishermen transition to more sustainable fishing gear that reduces the accidental catch of non-target species like bluefin tuna.
April: Marking 5 years since the beginning of the BP disaster, GRN and our partners released a new report – Sunshine on the Gulf II – examining how restoration was moving forward and recommending ways to improve the restoration process. We also worked with our allies in the Gulf Future Coalition and Gulf South Rising to help organize and/or participate in events around the memorial, including a press event in Biloxi, MS, a march in New Orleans, LA, and an action in front of BP America's headquarters in Houston, TX.
February 27-28: With our partners in the Gulf Future Coalition, GRN helped organize and facilitate the 7th Gulf Gathering in Biloxi, MS, which was attended by over 75 individuals representing over 50 different organizations interested in working together to build a brighter Gulf future.Andrea DeClouet and Pat Bertucci in Ironton, LA
Andrea DeClouet and Pat Bertucci in Ironton, LA celebrating RAM victory.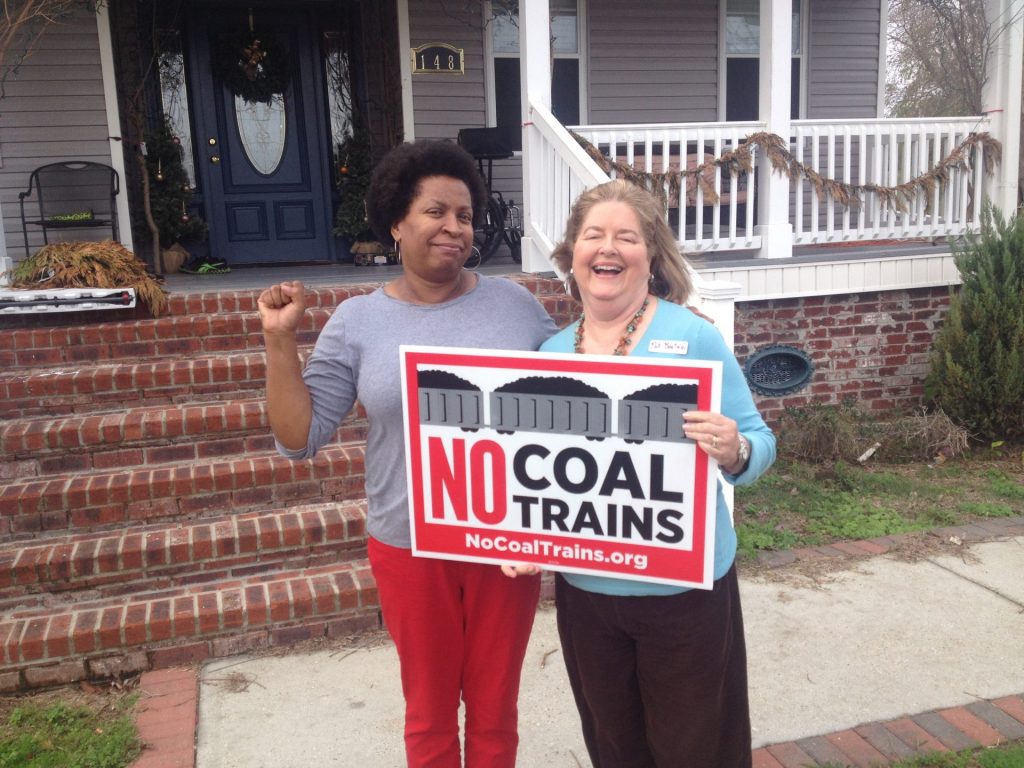 January/February: The Plaquemines Parish Council joined a growing chorus of voices choosing coast over coal by voting to deny a key construction permit for the proposed RAM coal export terminal. Jefferson Parish and the city of Gretna followed this action by passing resolutions calling on the state of Louisiana to further examine the impacts of the RAM coal export terminal.
January 21st: The Mississippi Commission on Marine Resources passed a resolution opposing projects, like a dam on the Pearl River in Jackson, MS and another dam in Washington Parish, LA, that would reduce freshwater flows to Mississippi's coast.
2014
December: In a major blow against RAM's plans to build a coal export terminal along the Mississippi River, a Plaquemines Parish, LA state court revoked RAM's state coastal use permit. This victory came in the wake of several other victories for coast over coal, including resolutions from Gretna, Westwego and Jefferson Parish questioning the RAM coal export terminal and its coal trains.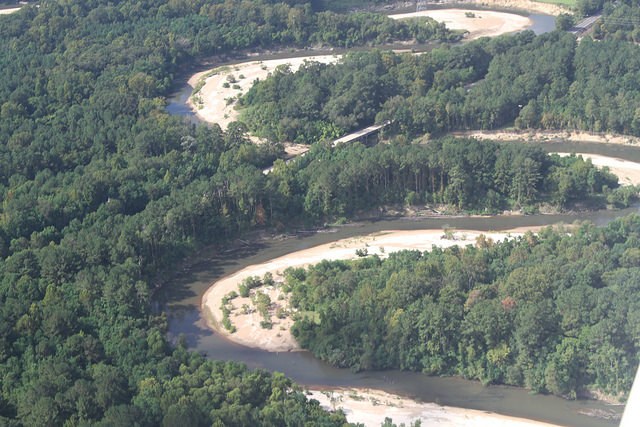 December: In response to public outcry, the Louisiana Department of Wildlife and Fisheries denied a permit for Comstock Resources, Inc. to withdraw fracking water from the Amite River – protecting one of Louisiana's Outstanding Natural Resource Waters.
December 1st: The National Oceanic and Atmospheric Agency announced new protections for bluefin tuna in the Gulf and beyond.
December 1st: The Gulf Coast Ecosystem and Restoration Council released a Funded Priority List of 50 habitat and water quality projects for funding through RESTORE Act dollars from the BP disaster. While a step in the right direction, GRN will continue to push the council to be more transparent and effectively incorporate public input.
October/November: For the eighth year in a row, GRN had the honor of being a nonprofit partner of the Voodoo Music + Arts Experience. We were able to engage thousands of festivalgoers at our booth, and worked with musicians backstage to advocate for a healthy Gulf – even receiving a stage shout-out from Rise Against!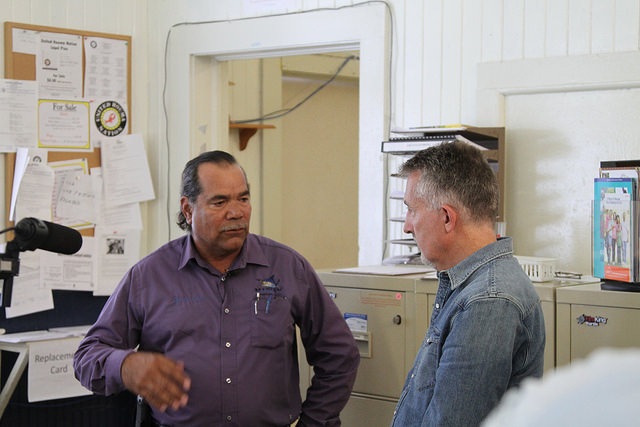 October: Mike Tidwell, author of Bayou Farewell, was the keynote speaker for our annual Defend the Gulf, Defend Our Culture fundraiser at Chef Susan Spicer's Mondo Restaurant. Mike also joined GRN on a trip down the bayou to revisit some of the people and places he wrote about over a decade ago in Bayou Farewell.
September 29th: GRN, represented by the Tulane Environmental Law Clinic, entered into a settlement with the city of Hattiesburg, MS and the Mississippi Commission on Environmental Quality over GRN's Clean Water Act lawsuit stemming from sewage discharges from the city's sewage lagoons into the Leaf and Bouie Rivers. The settlement requires Hattiesburg to construct a new sewage treatment plant that will reduce pollution into the rivers.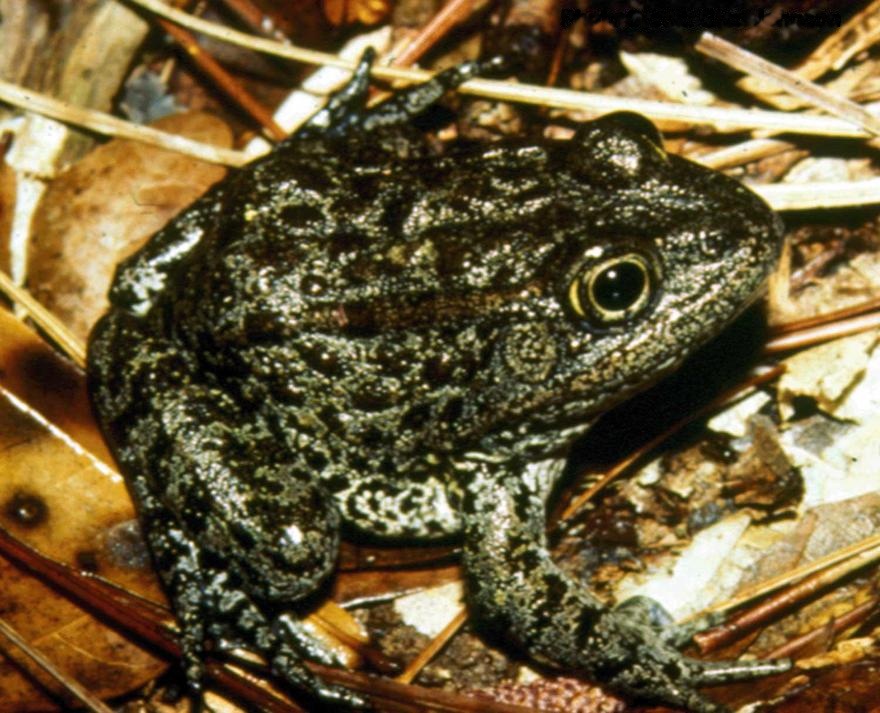 August 22nd: A federal judge upheld the U.S. Fish and Wildlife Service's decision to designate over 1,500 acres of land in St. Tammany Parish, LA as "critical habitat" for the endangered dusky gopher frog. GRN has been advocating to protect these endangered critters for years.
August: After overwhelming opposition from local residents and groups including GRN, the United States Army Corps of Engineers forced Helis Oil & Gas to re-apply for permit for fracking in St. Tammany Parish, LA.
May – August: Our summer Defend the Gulf Outreach Teamhad one-on-one conversations with over 24,000 Gulf residents about important issues facing the Gulf and engaged almost 1,000 new GRN members.
July 24th: The Gulf Future Coalition co-facilitated the Connecting the Dots workshop in Pensacola, FL, where over 75 participants gathered to engage in dialogue and build community and trust around issues important to frontline communities.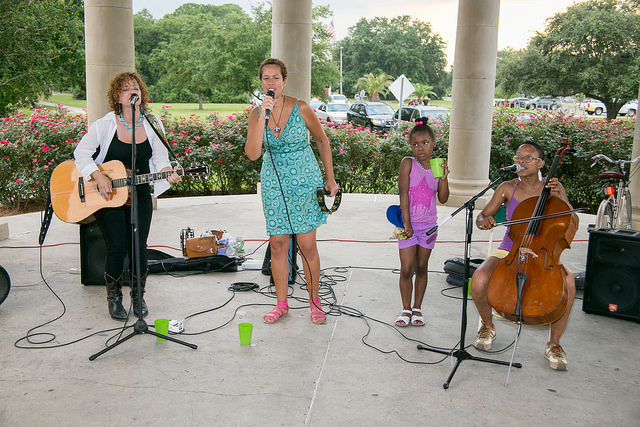 June 21st: GRN celebrated our twentieth year by partnering with Global Green USA, The Green Project, and Concordia to host a summer solstice party in New Orleans' City Park.
June 19th: The Hinds County Chancery Court ruled in favor of GRN and the Sierra Club, blocking the Mississippi Development Authority (MDA) from opening up state waters to natural gas drilling because the MDA had not undertaken a sufficient economic impact study.
April: For the ninth year in the row, GRN partnered with Aveda salons and institutes across the Southeast during Earth Month to raise money to protect the Gulf's waters and communities. Thanks, Aveda!
April: GRN co-organized three workshops in Alabama on the National Fish and Wildlife Foundation's restoration efforts related to the BP drilling disaster, with fifty to one hundred attendees at each event.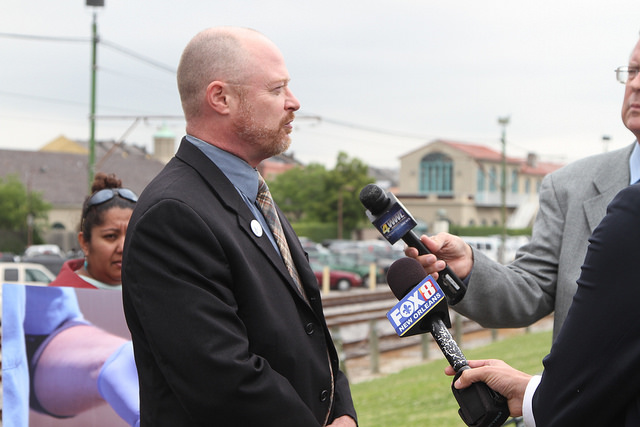 April 17th: To mark the 4 year memorial of the BP drilling disaster, GRN helped to organize three press conference and rallies across the Gulf (St. Petersburg, FL; Biloxi, MS; and New Orleans, LA) where residents spoke to the media about the ongoing impacts of the disaster and restoration needs.
March/April: In partnership with our allies in the Gulf Future Coalition, we held a series of 5 "Community Visioning Salons" across the Gulf, culminating in the sixth Gulf Gathering, which included seventy-five participants representing thirty-seven organizations interested in working together to build a brighter Gulf future.
2013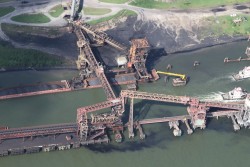 Based on GRN's persistent reports of coal pollution, Kinder Morgan International Marine Terminals and United Bulk Terminals are forced to contain their river pollution.
The GRN holds a gallery opening featuring the prints of Pippin Frisbie Calder, a local artist. Pippin's work is inspired by Louisiana's coastline and connects with the GRN's mission to preserve the landscapes she depicts. Her prints are available at Pippinprint.com.
GRN gets downriver interests involved in the Pearl River flood control project, including the St. Tammany Parish Government and two natural resources departments, the Coastal Restoration and Protection Authority and the Louisiana Department of Wildlife and Fisheries.
GRN hosts another great booth as the official non-profit partner of the Voodoo Music + Arts Experience for the seventh year. Headlining band Pearl Jam gives GRN a shoutout for our ongoing efforts to hold BP accountable for the drilling disaster.
The GRN connected the longline fishing boat owners to the Nova Southeast University Oceanographic Center Pilot Project study of alternative gear. Two of the boats tested the Greenstick gear.
In October, GRN again partnered with Air Traffic Control, a national nonprofit which helps musicians and artists promote social justice, on their Artist-Activist Retreat in New Orleans. GRN and Oxfam America organized and led a trip to Placquemines Parish where the artists met with community leaders fighting a proposed coal export terminal. GRN is grateful to Air Traffic Control for inviting us to work with so many artists who are passionate about protecting and restoring our Gulf communities and environment.
The GRN participated in the National Oceanic and Atmospheric Administration hearing, which proposed rules to protect bluefin tuna in the Gulf. It was attended by over seventy citizens.
From May through August of 2013 GRN ran a successful summer canvass, raising $10,439 and recruiting 1,674 new members!
Chef Sue Zemanick of Gautreau's Restaurant wins $10,000 for GRN on Top Chef Masters.
GRN, the Center for Biological Diversity, the Natural Resources Defense Council, and the Sierra Club win a settlement reducing seismic exploration in habitats sensitive to marine mammals.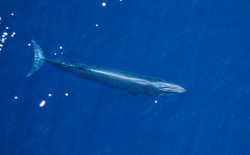 Phase III of the Natural Resource Damage Assessment (NRDA) Process includes 25 of 41 projects recommended by Gulf Future and dedicates $527 of $713 to Gulf Future-approved projects.
Hancock County Land LLC pleads guilty to the destruction of wetlands near Bay St. Louis, Mississippi. HCL must pay a $1 million fine for their two felony violations of the Clean Water Act.
Harrison County, Mississippi passes a resolution to oppose drilling on the Mississippi Coast.
Armstrong Coal RAM Terminal is forced to place its plans for a 8 megaton coal export terminal in Plaquemines Parish on hold until 2015.
On the week of April 20, 2013, GRN partnered with 13 organizations to memorialize the 2010 BP Oil Disaster by hosting a rally and press conference to remember the 11 lives lost and speak truth to the environmental devastation that continues to afflict our coastal communities and ecosystem
Gautreau's Restaurant hosts a Sustainable Seafood Lunch, featuring Chefs Sue Zemanick, Adolfo Garcia, and Brett Duffee. The lunch brings together several collaborating organizations to raise awareness about the problems of longline fishing and discuss the transition towards more sustainable fishing methods.
2012
The RESTORE Act, which directs 80% of BP's Clean Water Act fines to Gulf recovery, is signed into law.

Our outreach at Bonnaroo Music and Arts Festival helps motivate over 2,000 people weigh in to support Gulf restoration.

GRN and partners file suit to push the EPA to implement a clean-up plan and anti-pollution standards for the entire Mississippi River basin generating over 200 media stories to bring attention to the issue.

The Louisiana State Master Plan for a Sustainable Coast embraces the multiple lines of defense strategy and passes the Louisiana legislature after incorporating many of our specific suggestions.

The plans to build a dirty, unnecessary, and expensive coal-fired power plant and mine in Kemper Country, Mississippi are halted by the Mississippi Supreme Court.

GRN's public service announcement to commemorate the 2 year memorial of the BP disaster features a soundtrack by Portugal. The Man and appearances by well-known musicians such as Dr. John, Preservation Hall Jazz Band members, Fishbone, Stanton Moore of Galactic, as well as NFL linebacker Scott Fujita, and gets thousands of views on YouTube

The Maurepas Wildlife Management Area is expanded by 145,000 acres using funds from the Coastal Forests Conservation Initiative (under the Coastal Impacts Assistance Program) that GRN helped shape.

The denial of a permit for the highly destructive Yazoo Pumps project is affirmed by the courts. This victory is the culmination of over 15 years of work at GRN!

The first phase of early restoration projects to mitigate damage from the BP disaster includes effective restoration projects, including 3 specifically recommended by GRN and our Gulf Future partners.
2011
Over the year, GRN's work saves at least 232 acres of wetlands and 22,080 linear ft. of streams, including the Chickasawhay Creek.

The Gulf Future Coalition releases Sunshine on the Gulf: The Case for Transparency in Restoration Project Selection and garners significant attention.

Another successful partnership with Voodoo Experience music festival results in hundreds of concert goers experiencing our coastal lines of defense wetlands installation as well as a musicians' tour of our coastal crisis with artists such as Ani Difranco, Blind Pilot and MyNameIsJohnMichael.

The Richton Salt Domes project that would have greatly impacted the Pascagoula River is abandoned. This project would have withdrawn 50 million gallons of water per day from the river and created an estimated 90 oil and salt spills.

Field monitoring of the BP oil disaster continues to provide GRN members and the public with an important on-the-ground perspective long after media attention has waned.

GRN's Summer Outreach office conducts one-on-one conversations with over 51,000 individuals and recruits nearly 3,000 dues-paying GRN members to support our efforts to respond to the BP disaster while collecting over 500 handwritten letters to Congress pushing for action on sending BP's Clean Water Act fines to the Gulf and establishing a Regional Citizens' Advisory Council.

Released a report, The Chaos of Clean-Up, with EarthJustice, Florida Wildlife Federation, and Toxipedia, on the dangers of toxic dispersants after a lawsuit filed by GRN and our partners forces EPA to disclose chemical components of dispersants and exposes lack of rigorous testing in approval process for dispersants.

The Gulf Coast Ecosystem Restoration Task Force, created by President Obama in the immediate aftermath of the oil disaster, uses the Gulf Future Coaltion's prioritization guidelines to help develop their restoration plan and commits to forming a citizens advisory committee after much public pressure by GRN and our partners.

Proposal to dam streams to create unnecessary reservoirs that would have impacted the Pearl River is temporarily abandoned.

GRN is a leader in organizing the Gulf Future Coalition, a group of over 50 civic, fishing, environmental, and faith organization, which releases Gulf Future: Action Plan for a Healthy Gulf.

Peco Foods Chicken Processing is forced to reduce its pollution flow in order to help clean up the Pearl River.

After several years of pursuing the lawsuit, GRN successfully holds Hancock County Development Corporation accountable for their violations of the Clean Water Act when they started an unpermitted development that threatened 700 acres of wetlands and caused flooding in neighboring properties.
2010
Executive Director, Cynthia Sarthou, receives five major awards: River Network's River Hero Award, the Peter Benchley Hero of the Sea Award, the Institute for Conservation Leadership's Organizational Leadership Award, the Brock Evans Endangered Species Award, and named a Coastal Hero by Coastal Living Magazine.

Field monitoring by GRN documents the impacts and response to the BP oil disaster providing an honest, independent assessment of the disaster with over 50 monitoring trips by boat and plane.

Gulf Coast Ecosystem Restoration Task Force created by Obama Executive Order dedicates federal resources to developing a plan for Gulf restoration in the aftermath of the BP disaster.

The White House releases a Restoration Roadmap for the Gulf with GRN guidance included.

Through the advocacy of GRN and its partners, the National Oil Spill Commission's final report includes a recommendation that a Gulf of Mexico Regional Citizens' Advisory Council be established to hold the oil industry accountable.

GRN, along with partners, stopped or reduced the impact of environmentally harmful projects, like "surfwashing" oiled sand, that were being proposed as "emergency actions" in response to the BP oil drilling disaster.

Partnering with Reverb Outreach Villages, GRN volunteers represent the Gulf at 27 concerts in 22 cities.

GRN's Summer Outreach office quickly responds to the BP disaster and has over 44,000 conversations updating citizens on the latest with the BP oil disaster and how they can help. Over 2,100 people donated to the cause, and the Outreach Team collected 287 handwritten letters, organized 5 rallies and went door-to-door in all 5 Gulf states.

GRN establishes a Washington, DC office and uses new staff to influence national dialogue on BP disaster response.

GRN and partners organize Gulf Gathering: A Unified Response to the BP Oil Disaster that brings together 95 people from 46 organization to coordinate action and draft the Weeks Bay Principles for Gulf Recovery to outline community needs.

GRN works with local organizations to establish the Nature Coast Coalition to help protect and restore Florida's last wild coast.

BP is pressured to increase transparency in their response including releasing video footage of the seafloor blowout and reducing travel restrictions in impacted areas.

GRN is the first organization to do an aerial survey of the Deepwater Horizon blowout three days after the explosion and draws attention to the inadequate response by BP and the Coast Guard.

A National Ocean Policy to better manage and conserve our oceans is created through Executive Order.

GRN defeats a plan that would have destroyed 50 acres of wetlands along the MRGO and Intracoastal Waterway.
‍
‍