Hear from Healthy Gulf Staff at 'A Radical Gathering: Cultivating the World we Deserve'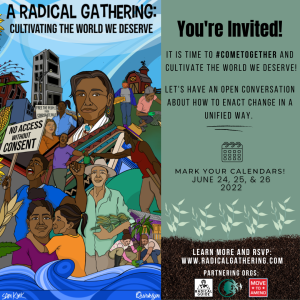 A Radical Gathering will happen online the weekend of June 24-26, 2022, and includes a series of teach-ins, workshops, trainings, presentations, and panels, covering myriad revolutionary and visionary topics. 
Saturday, June 25th at 3 pm CT, Hear from Healthy Gulf staff Roishetta Ozane, Michael Esealuka, and Christian Wagley: Much of the U.S. portion of the Gulf of Mexico is a sacrifice zone for the fossil fuel industry. Drilling rigs, petrochemical plants, refineries and more cover both water and coastal lands from Texas to Alabama, leaving only Florida free of drilling. Join advocates as they share their work around a Just Transition to renewable energy–one that values and restores the people and communities that have long suffered under these extractive corporate interests. 
Register and learn more at: https://www.radicalgathering.com/