Want to make a bigger impact for #GivingTuesday? Want to share your love of Healthy Gulf with like-minded friends? Whatever the reason, personal Facebook fundraisers are a fun, easy, and highly effective way to raise money for Healthy Gulf to support our mission.
Here's how to get started.
Create your fundraiser
Login to your Facebook account from a laptop or desktop computer. On the left side menu, click "See More". Scroll down (it's alphabetical) and click "Fundraisers".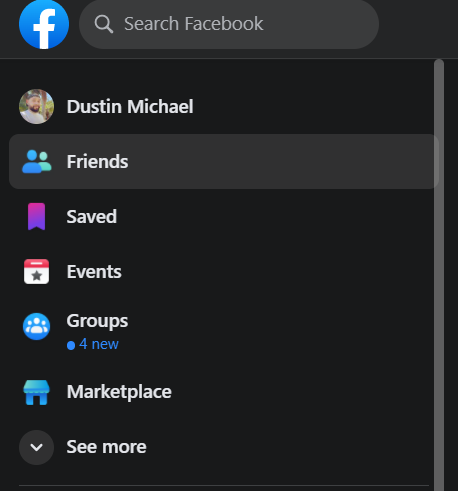 Click "Raise Money"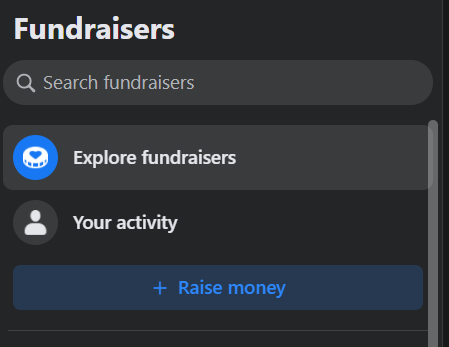 Choose a fundraiser type. In this case, you'll choose "Nonprofit".
Once you've chosen Nonprofit, type in "Healthy Gulf" to the search bar, and choose Healthy Gulf from the list.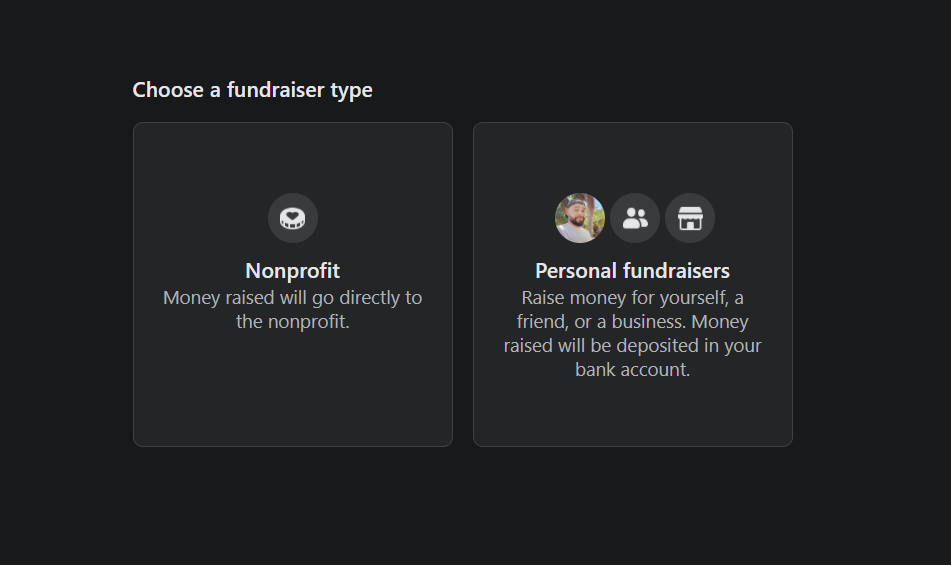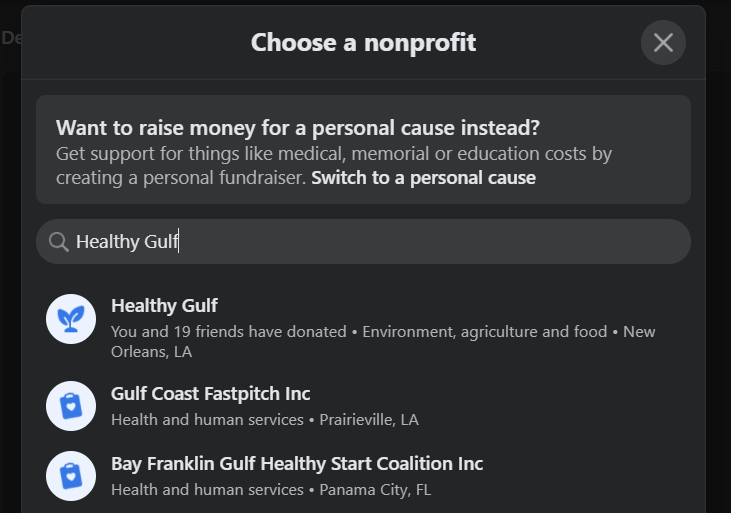 Enter the Details of your Fundraiser.
Please note that you enter all of the details of your fundraiser on the left hand menu bar. The preview to the right will update with the information you input.
You will fill out the following prompts:
How much money do you want to raise? (we suggest $500, but you know your friends better than us!)
When should your fundraiser end? (We suggest December 31 for end of year fundraisers or 1 month after your birthday for birthday fundraisers)
What's the title of your fundraiser? (Get creative!)
Why are you raising money? (Get personal! Let folks know why your support Healthy Gulf)
Feel free to change up the cover photo! (Might we suggest a photo of you with your beautiful smile 🙂 )
Click Create!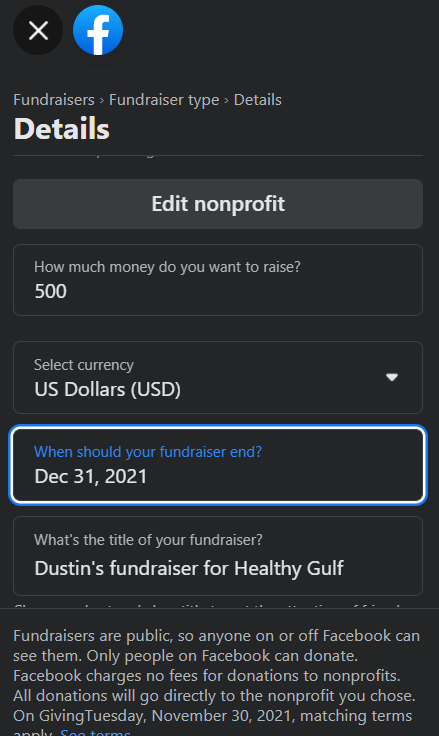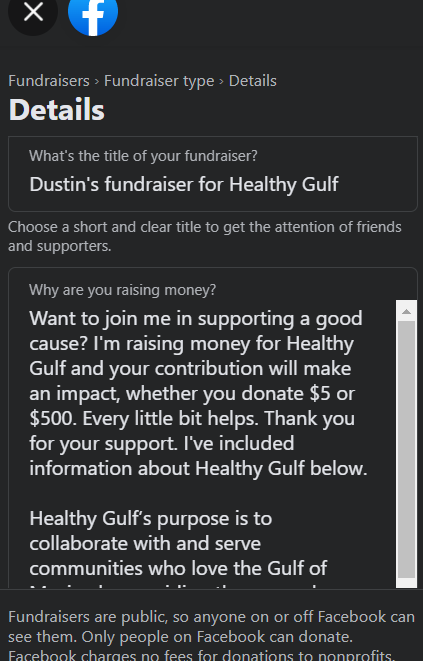 Share with your friends!
Now that you've created your fundraiser, Facebook with prompt you to:
Invite your friends to join
Make the first donation (it's always good to seed the pot!)
Share on your timeline!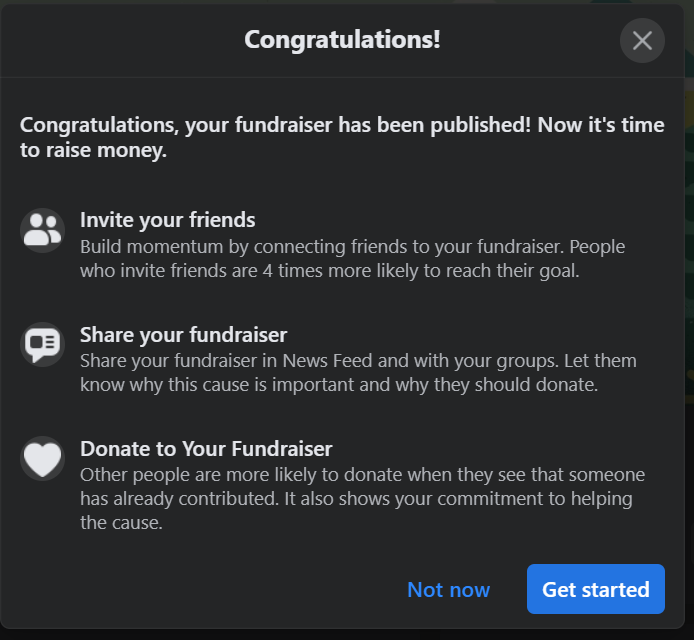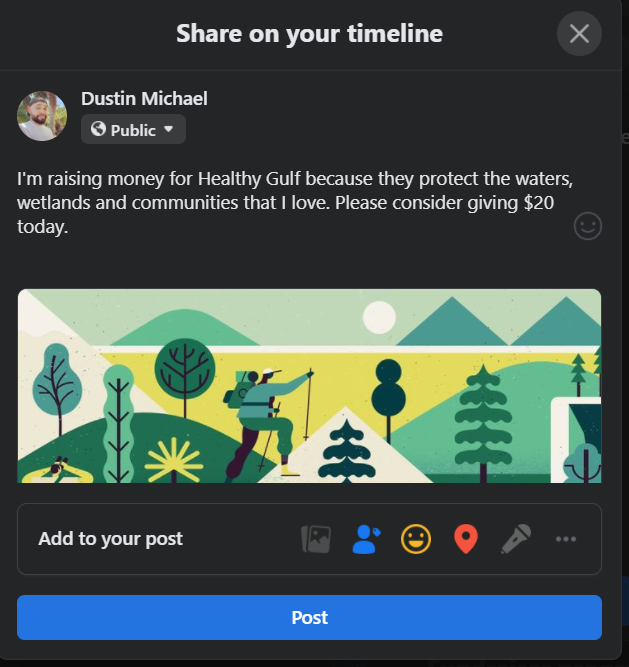 Keep your friends up-to-date on your progress!
It can be exciting to reach a goal. And it's fun for your friends to cheer you on and help you reach your goal. Keep your friends updated when you reach milestones toward your goal. Raised $100 so far? Thank those who have donated and re-share the fundraiser on your wall!