Cradle to grave, ethane is harmful to people and our environments. Ethane, with methane, is a major component of so-called "natural" fossil gas. The fracking used to extract fossil gas devastates upstream communities; in turn, plastic and other petrochemical end-products inevitably find their way to landfills and oceans, damaging ecosystems and leaching toxic chemicals and greenhouse gases as they break down.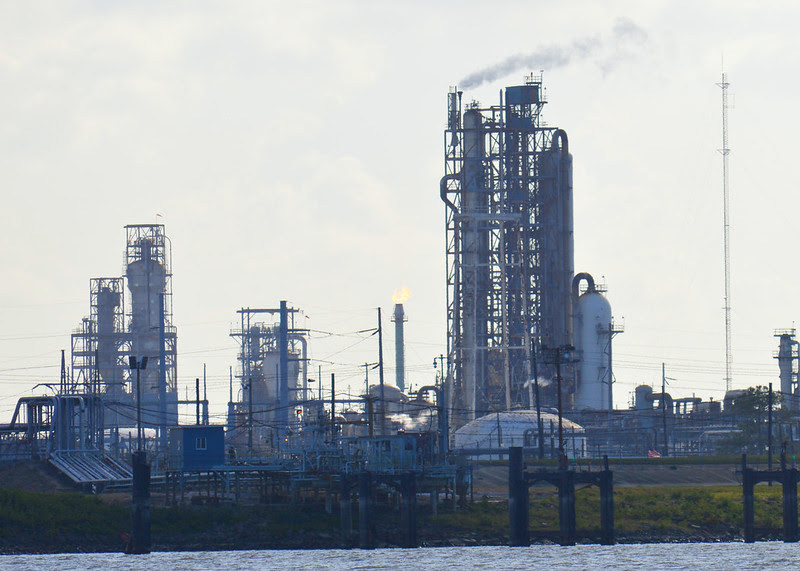 But Louisiana is particularly affected by the production process that happens between initial extraction and eventual degradation. In order to be of value to the petrochemical industry, ethane serves as a feedstock that is cracked into ethylene and further synthesized into chemicals like ethylene oxide and ethylene glycol. In Louisiana, this petrochemical production is concentrated in the southwest corner of the state around Lake Charles and on the 85-mile stretch of the Mississippi River between Baton Rouge and New Orleans called Cancer Alley because of industry impact on residents there.
Since 2007, 55 facilities across Louisiana have emitted 31.7 million tons of ethane-derived ethylene into the state's air, according to the EPA's Toxics Release Inventory. And 2019, the most recent year for which the EPA has complete data, saw the highest releases yet – over 3.6 million tons. Top ethylene polluters include Dow Chemical, its subsidiary Union Carbide, Shell Norco, and ExxonMobil Chemical in Cancer Alley, and facilities like Westlake Polymers and Sasol Chemicals in southwest Louisiana.
Dow's Union Carbide plant in St. Charles Parish on the Mississippi River is also by far Louisiana's biggest offender in terms of ethylene oxide releases. 14 facilities in the state release tens of thousands of pounds of ethylene oxide each year, but until 2013 that number was surging over 100,000 pounds annually. A decrease in emissions has come from regulatory pressure following the EPA's recognition that inhalation of ethylene oxide by residents living around these plants poses risks of lymphoid and breast cancers as well as neurological damage. Still, a report by The Advocate just this past weekend found only two of the state's five worst offenders have brought their releases down to the EPA's safer standard. The others, including Sasol and Union Carbide, have emissions 2-6 times the minimum level set for residents' safety.
EPA data also reveals that almost all fourteen facilities with reportable releases of ethylene oxide are in or immediately adjacent to census blocks whose residents are majority people of color. In most of these census blocks, residents are well over 40% low income. In the past years alone, South African chemical firm Sasol forced the relocation of the African American community of Mossville, despite significant resistance to the process from residents, to build one of the world's largest ethane crackers. Make no mistake: the siting of these facilities is part of the anti-Black and anti-poor system of industrial toxics permitting that ensures these communities bear the brunt of the immediate harm. Regulation of ethane and its petrochemical derivatives is a question not just of environmentalism but of environmental justice.
Of course, ethylene oxide and other ethane products are not the only chemicals released into Louisiana's air. Recent analysis by researchers led by Kimberley Terrell at the Tulane Environmental Law Clinic (Terrell et al., in review), definitively shows consistent linkages between cancer risk, industrial air pollution, and race and poverty in Louisiana – affirming what residents themselves have long known about their communities' cancer burdens. And cancer rates are only one facet of the problem: petrochemical plants and their pipelines and tie-in facilities are highly vulnerable to the increasingly destructive storms that the region faces. These storms and the damage they bring are made worse by the rising seas and subsiding land that these plants help exacerbate by destroying Louisiana's protective wetlands and releasing climate-altering greenhouse gases.
This is why we insist that when the DOE and other regulatory agencies consider the effects of ethane, they do so not in isolation but with a view towards the cumulative impacts of this fossil gas, the further products it is synthesized into, and the release of these and many other petrochemicals Louisiana's air, soil, and water.
And finally, we want to uplift the ongoing opposition that residents are mounting for their own self-defense. Members of RISE St. James and other coalitions, for example, continue against all odds to stymie construction of the Formosa plastics plant there – a plant that would also bring ethane and ethylene pipelines, and that would be permitted to release almost 8 tons of ethylene oxide annually, in addition to other damaging chemicals and 13 million tons of greenhouse gases.
We urge the DOE to follow the lead of Louisiana's communities—shut down existing ethane facilities, halt the construction of new ones, and prioritize a just transition to a future without fossil fuels.