Ironton, an African-American town in Plaquemines Parish, organized over the course of a year and throughout the pandemic. They opposed the construction of an oil terminal, planned by Tallgrass Energy, at the fenceline of their community. Tallgrass intended to build its terminal at the site of the former St. Rosalie plantation, right upriver from the historic Black community.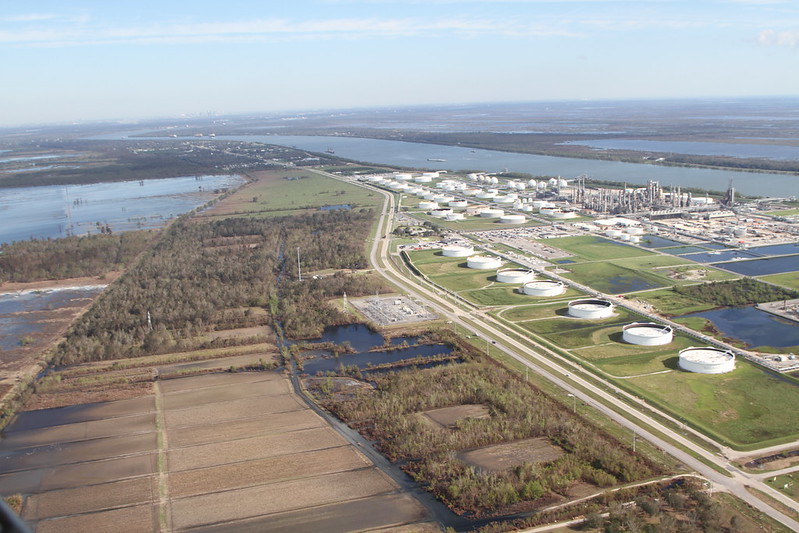 Freedpeople settled Ironton over a hundred and fifty years ago, roughly forty-five miles south of New Orleans. The founders of the town built their own homes. They constructed a church in 1878, one year after the end of Reconstruction.
The oil terminal was planned by Tallgrass, who'd leased the St. Rosalie property from the Port of Plaquemines in a controversial deal. That same year Tallgrass hired ELOS as environmental contractors to survey the land. Residents knew the site contained historic burial sites of enslaved people and their free descendants – many people had come from St. Rosalie to Ironton and made a home. The ELOS report documented thousands of artifacts, including human remains. It noted they'd dug up bones and shipped them to a local university.
Residents were disturbed by the desecration of the graves. "I had grandparents, uncles, and aunts that lived at St. Rosalie. I have family buried there," said Ms Pearl S., a lifelong resident of Ironton, who sent an op-ed to the local paper. The ELOS report acknowledged the presence of likely gravesites in areas where Tallgrass wanted to build, and air permit applications Tallgrass sent in to LDEQ (Louisiana Dept. of Environmental Quality) showed their oil terminal would emit cancer-causing chemicals like benzene into the air.
So Ironton residents held community meetings, wrote public comments, published in the Plaquemines Gazette and organized a meeting with their council member, Carlton LaFrance. Following months of pressure, Ironton won: Tallgrass canceled its plans to build the oil terminal. The news was bittersweet as it came three months after Hurricane Ida brought 8ft of floodwaters to the town. Most homes in Ironton will need to be demolished.
But Ida's devastation could have been prevented. Ironton was hit hard in Hurricane Katrina and later promised a levee, but sixteen years later the US Army Corps of Engineers hasn't finished the New Orleans to Venice hurricane protection project. It will only provide a 50 year storm protection.
Following Hurricane Isaak, federal funds were allocated to Plaquemines Parish for home elevation. Hardly any of those funds went to Ironton – fewer than 10 homes were raised. Residents are clear about the need for oversight and accountability from their officials.
The community is getting organized right now to demand the resources they need to recover. After securing a commitment from the Coastal Protection and Restoration Authority to support home elevation, residents now look for answers from parish, state and federal officials.
Throughout its history Ironton has fought for the right to exist. Ironton has organized for drinking water, political representation, paved roads and integrated schools. Now is time to rectify these historic wrongs, as the state allocates resources to rebuild infrastructure and fund coastal restoration.
Healthy Gulf's work focuses on a Just Transition – as we shift away from oil and gas to halt the dangers of climate change, we believe our new economic systems must be based on justice for all communities. We support Ironton's struggle for the future of their town and continue to advocate for their right to recover and to keep its air free of toxic emissions.