The date was June 10th about 8:30am. It was a normal day. I was sitting at home getting my day started as the sound of rain filled my ears. My girlfriend was soon out the door to work at 9am. My day flipped when she looked outside and saw my car was flooded up to the doors. Frantically, I drove it up onto the lawn only to watch water draining from all four doors. I kept saying to myself the pumps can't be working. I live not far from a drainage canal and I saw it overflowing. I felt betrayed once again, having little faith in the drainage system. It has failed us too many times in the past. Knowing this, I also knew no one was coming to help us but us. This is not normal, and New Orleans floods can't become normal.
I lived through the horror of seeing my community on rooftops pleading for the most powerful nation to save its own, and then lived through the struggles of every storm since. We still feel that trauma. Some of us are still in what we call Katrina mode – properly called post-traumatic stress. FEMA did not address mental health in the relief package. We are also referred to by the alluding term, "resilient." The state of Louisiana has declared the most disasters of any state in the country. We face disaster capitalism funding out-of-town contractors while it's hard for a local worker to get a dime pay raise without the threat of company layoff. We are facing a post-Katrina, post-Ida, post-tornado, and post-rain burst reality. And still the pumps don't work. I still see blue tarps and roofs being repaired during hurricane season.
I expressed our issues on the news. My neighbor across the street was fighting to get his son's car out of the water. We used everything we could grab, a shovel and safety cones. We leaned and rocked and pushed till we got that car to a safe spot. I told him to stay safe and walked the streets, searching for people to help, searching for answers. After the water drained, no relief came. What was left were flooded cars and trash bags and debris clogging storm drains, adding a sad sight to a traumatic situation.
We are tired of being the casualties of systematic failures. I refuse to let this be our new normal. Throughout my journey as an activist, I have built community trust and strong relationships. I have also learned about climate justice and realized the amount of injustice my community faces that has been normalized. My role as the New Orleans Climate Justice Organizer allows me to bring resources to my community that, in most cases, we would not receive.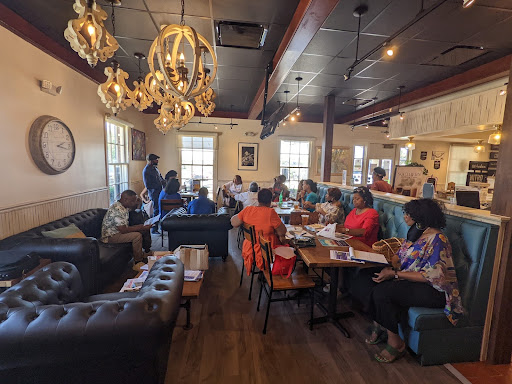 Two weeks after the storm, I brought together over 25 community members to listen, heal, and work on solutions with I See Change. Instead of just living with the trauma we are healing. We must not normalize these disasters, instead we must normalize community building through meetings like this and follow through with real action. Through community building, we are creating a better way. This is the new normal we are creating.